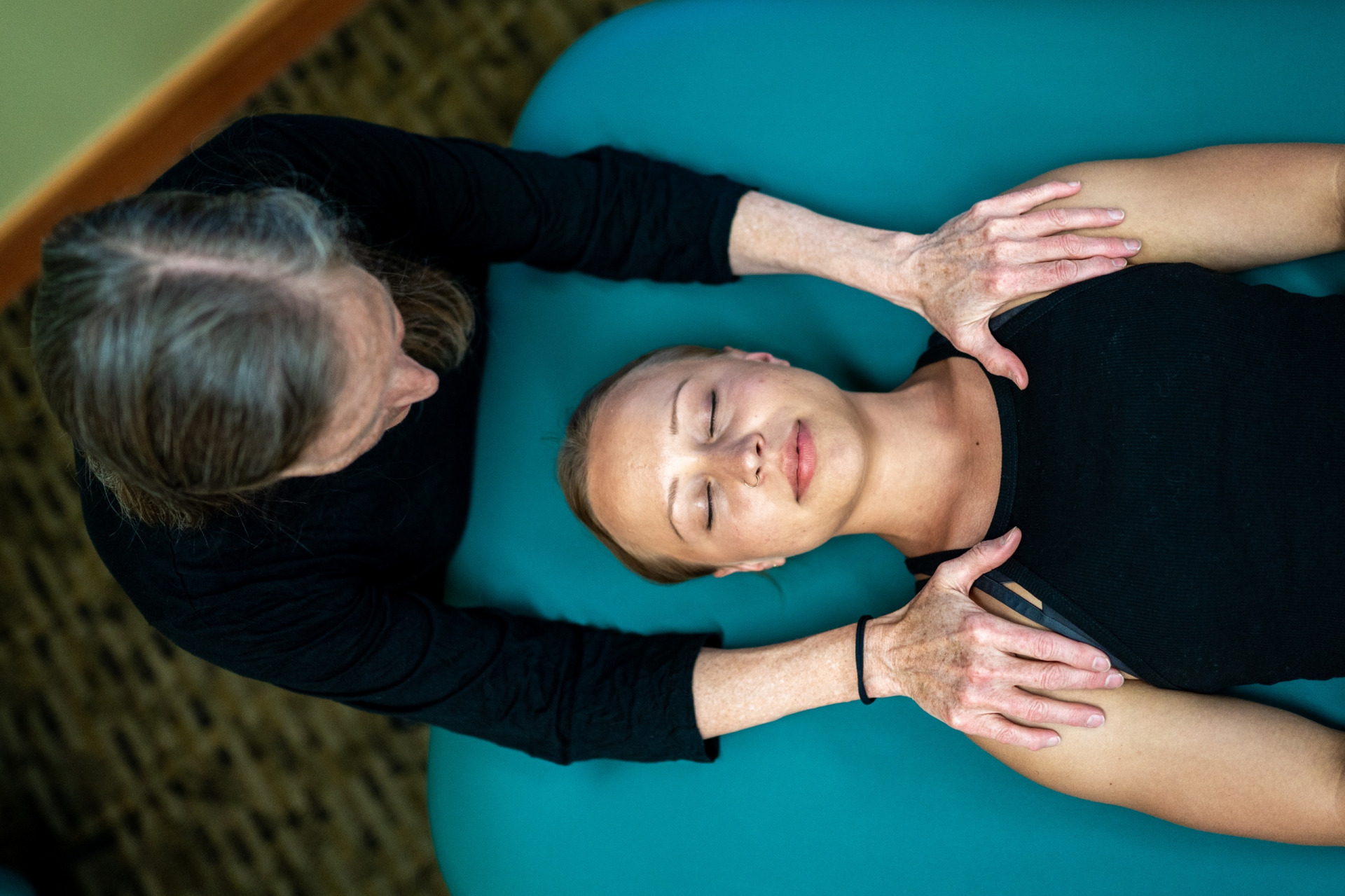 Whole Body Approach
Health in Motion Physical Therapy + Wellness takes an integrative, whole-body approach to patient care. Working holistically, we find and treat the root cause of your pain to provide optimal and lasting results.
SCROLL DOWN
We can help you get better — faster!
REQUEST A CONSULTATION
We listen! Our-patient focused care supports your body's innate wisdom so you can meet life's injuries, trauma and challenges with confidence—and realize your highest physical potential. All therapy sessions are one-on-one in a private setting to ensure personalized, focused care. To empower you in the healing process, we provide simple, effective techniques and exercises to incorporate into your everyday routine to increase function, strength and range of motion.
Services
We Specialize in Getting Results
At Health in Motion Physical Therapy + Wellness, we strive to provide the most effective and state-of-the-art treatments available.

Our team of physical therapists possess a broad range of specialties and certifications, which allows us to treat a variety of orthopedic and structural problems, concussions, neurological issues, headaches and stress—and most everything in between. We support all ages from birth to the elderly.

All therapy sessions are one-on-one in a private setting to ensure you receive the focused care you deserve. Our physical therapists are also specialized in holistic healing techniques to speed up your recovery. To encourage patient participation, we provide simple, effective techniques and exercises to incorporate into your everyday routine to increase function, strength and range of motion.

Craniosacral and Brain Therapy
Craniosacral Therapy and Brain Therapy are complementary modalities designed to release tension and balance the nervous system; both are performed while a patient is fully clothed. Both therapies help restore vital flow to increase energy, function and whole-body wellness.
Visceral Manipulation
Viscera refer to the body's internal organs. When one organ cannot move freely in relation to others because of restriction (such as those caused by adhesions or displacement from injury), dysfunction and pain are likely to occur. Visceral manipulation involves the specific placement of a practitioner's hands to encourage healthy, normal mobility of the organs and connective tissue that surrounds them.
McKenzie Technique (Mechanical Diagnosis and Therapy)
Mechanical Diagnosis and Therapy (MDT), or the McKenzie Method, is a research-based process for assessing and treating spinal and musculoskeletal disorders. Developed by New Zealand physiotherapist Robin McKenzie, this multifaceted therapeutic system currently treats patients in more than 40 countries with great success.
Lymph Drainage Therapy
Proper functioning of the lymphatic system is crucial to the body's ability to drain fluids, regenerate tissues, filter out toxins and foreign substances, and maintain a healthy immune system. To accomplish these tasks, the lymphatic system is complex and comprised primarily of lymph vessels and nodes working in cooperation. Lymphatic Drainage Therapy involves subtle manual maneuvers to aid in the recirculation of lymphatic flow.
Myofascial Release and Manual Therapy
Myofascial release, often referred to as trigger-point therapy, involves the application of gentle-yet-firm pressure to specific areas along the body known as pressure or trigger points. A skilled physical therapist trained in pressure-point release applies gentle pressure via touch. Sometimes, a therapist may choose to use certain devices or tools to assist with force application.
Holistic Pelvic Care
Women experiencing pelvic and low back pain, pain with intercourse, low vitality, low libido, incontinence issues or pain from a tailbone injury have found pelvic work helpful in alleviating their symptoms. This care is also beneficial to women who have experienced birth traumas including an episiotomy, vacuum delivery or forceps extraction, among others.
Laser Therapy and Dry Needling
Laser Therapy and Dry Needling are proven therapeutic techniques to decrease pain. Laser Therapy uses medical-grade near-infrared and cold lasers to increase microcirculation and tissue regeneration to speed healing, decrease pain and increase range of motion. Dry Needling involves inserting sterile acupuncture needles into muscles, tendons and ligaments, as well as around nerves to likewise support healing. Dry Needling is not acupuncture; rather, it is a contemporary practice based on reputable scientific studies of musculoskeletal and neuromuscular systems.
Vestibular and Concussion Rehab
Vertigo characterizes the feeling of being rocked or rotated when you are perfectly still. It can last for several hours or even days. Medically, it is distinct from dizziness because it involves the sensation of movement. Vertigo can be caused by an inner ear dysfunction, a central brain dysfunction or a problem in the spine (cervicogenic vertigo).
I had the best results from taking PT here than I have had anywhere at any time in my life.Rose Z.
About Us
Nice to Meet You
Our Practice
Health in Motion Physical Therapy + Wellness is different than most other physical therapy offices: Our therapists look at and treat the entire body, not just specific areas of pain. We correct posture and body mechanics to treat potential causes of discomfort and dysfunction and therefore speed up recovery so patients can safely return to their normal, active lifestyles.

Our Bozeman therapists specialize in a variety of integrative treatments that work in combination to tackle aches and pains that stem from a range of causes. After assessing each patient as a whole, our therapists recommend a course of treatment that may include some or all of the therapies we offer, as well as visits with one or more of our practitioners. This integrative and cooperative approach to patient care diversifies treatment to not only relieve pain but identify and heal its source.
Our Team
Physical Therapy and Wellness Professionals
Thanks for fixing my knee in time for summer!Marty H.
FAQs
Frequently Asked Questions
What is physical therapy?
Physical therapy is a medical, hands-on approach to relieving pain and restoring function. Physical therapists are medical experts in musculoskeletal and neurological conditions and work closely with physicians. Health in Motion Physical Therapy + Wellness' therapists evaluate movement patterns to identify the cause of pain so they can work with patients toward its elimination.

While every patient's condition and pain are unique and therefore require their own specific treatment plan, a Health in Motion physical therapist will draw from a variety of gentle, hands-on techniques, exercises and equipment to relieve pain quickly and restore function to optimum levels. Our overall goal is to restore pain-free mobility and function, as well as prevent injury and pain from reoccurring.
How do I know if physical therapy will help me?
Working with you and your doctor, we can discuss your options to determine if physical therapy is the right choice. Contact us today to discuss your current condition; consider setting up a free phone consultation to get an accurate idea of how we can support your healing
Can I go to any physical therapy I choose?
As a patient, you have the right to choose any physical therapy office for treatment. At Health in Motion Physical Therapy + Wellness, you can trust you will receive expert care on your path to realizing the results you seek. We pride ourselves on providing a positive, encouraging environment with well-trained and friendly staff—and are confident we can help you reach your goals and live a pain-free life.
How do I schedule and appointment?
Scheduling is easy: Just call or simply fill out the "schedule-an-appointment form" at the bottom of this page. Our central location makes visiting our office convenient; and, to suit your busy schedule, we offer Monday-Friday appointments as early as 7 a.m. and as late as 5:30 p.m.
Request a Consultation
LET'S GET STARTED
You can live life without pain. Get in touch to request a consultation or additional information about our approach to physical therapy.
If you are a new patient and have scheduled a visit, please visit our
forms page
to download new patient paperwork.
Fill out the form below or give us a call today:
(406) 585-4642
.